We are operating from the biggest hub of automotive manufacturing in Ahmedabad. We cater to the needs of SMEs and large organizations. Not just this, we provide all the basic services and serve document needs like PPAP, FMEA etc., on demand. We are nimble and capable to respond to changing demand patterns. We have requisite arrangements to provide parts duly spray painted as per the provided specifications.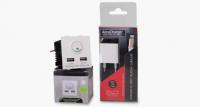 Our offered range of products entails mobile chargers, electrical modular chargers, charging stations etc., which are produced in high volume and at low cost with great aesthetics. We make use of special flame retardant grades of Polycarbonate, PC-ABS. For insert moulding, high-quality inserts complying with the codes of Indian standards are used.
With our in-depth experience and domain excellence, we are providing moulding solutions for electrical and electronic products like Switchgears, LED lights, Contactors, Relays, Switches, Adaptor housings, Tube lights, MCCB, ACB, Fuse, Timers, Power supply housings, Push button switches, CFL lights, Rotary switches, etc. We hold expertise on raw materials, fitment needs, aesthetic requirements, handling of the parts and can be trusted for maintaining efficient supply chain management. Our offerings comply with the requirements of UL, CSA, RoHS. We make use of electrical grade raw materials such as PA6, PA66, PA46, PBT, PC, TPE, TPV, POM, PES, PPS in combination with Glass filled, Mineral filled, Flame retardant, Long fibre filled and various blends of materials.
We excel in manufacturing a large range of components for the electronics industry, such as moulded plugs, electrical connectors, protective sleeving and enclosures. We provided solutions are of high precision and we lay special attention while working with sensitive electronics. We are skilled with extremely small precision moulding.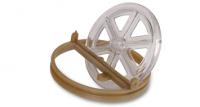 Nylon (Polyamide) components, useful in the furniture industry windows, castor wheels, aluminium sliding, etc., are moulded for some key customers.